The logistics amazed us.
The variety of shapes and sizes and types of bikes and people astounded us.
The reality of riding 462 miles over 7 days still seems surreal.
And, we continue to unpack our thoughts and feelings about this epic adventure.
Here are the three things that stood out most to us.
Trust
Nobody locked their bikes. Nor, did you worry about contents within bike bags. When you rode into a town, you found something to lean your bike on, removed your helmet and gloves, and just walked away.
I overheard one of our favorite vendors, Iowa Coffee Company, even tell customers starting to run out of cash by the end of the week to order a drink today and pay the next day. (This was the 2nd to last day so there really was a 'next' day).
At night, your bikes were by your tent, or against a nearby tree, post, house, or building. Not locked.
"Don't Quit" Riders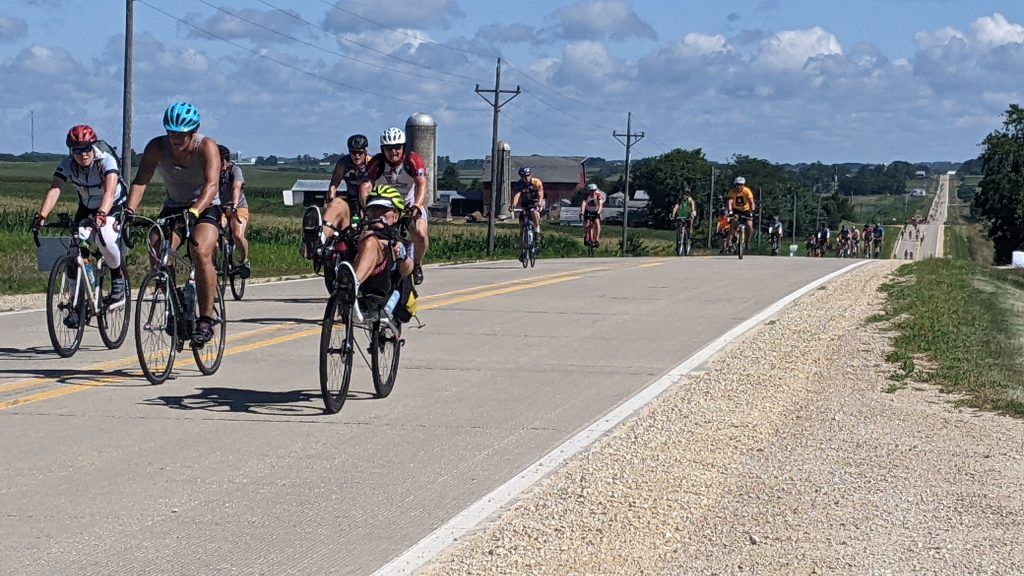 This was not an easy ride. Ben and I are in fairly good shape. Yet, riders of all shapes and sizes rode this tour.
There were a number of first-time riders within our group. One of them experienced 3 flat tires within the first two days of the ride. She had to wait an hour after the 3rd flat to get her bike checked out.
She could've asked for the SAG van to pick her up.
Did she?
Nope.
She got her bike fixed, and started pedaling.
Other riders weren't able to ride all the way up some of the hills, but they didn't quit. They simply got off their bike and started walking. Then jumped back on at the top.
We even saw ellipticals and inline skaters making the trek all the way across Iowa.
Iowa Hospitality
There were 'thru' towns, meeting towns (usually near the midpoint of the ride for that day), and overnight towns. Every single town (except maybe one) rolled out the red carpet for bicyclists.
This video shows what it is like to walk through a RAGBRAI town.
Upon entering a town, people cheered from the side of the road, or from their front porches.
The same happened as you pedaled the Iowa countryside. People in driveways, or on adjacent gravel roads cheering from their lawn chairs as bikes passed by…for hours. It takes a very long time for 18,000 bicyclists to pass by!
Local churches and organizations made pies and homemade goods for riders.
Local musicians performed.
You felt welcomed and encouraged all along the route.
Several times we heard how RAGBRAI compared to Tour de France when it came to community support and fans cheering along the way.
We have so much more to share.
Stay tuned for more RAGBRAI posts, including:
Beekmans Homemade Ice Cream
The Largest Man-made Grotto in the World