Not only do they have the best homemade ice cream, but Beekmans also has the most unique way of making homemade ice cream.
They use one-cylinder engines!
As we biked across Iowa, we knew when we were approaching the Beekman stop just by the sounds!
They usually had 4-8 engines/ice cream makers going at a time.
Do you notice how large the containers are?! 10 gallon?
They offered 4 flavors: Vanilla, Chocolate, Peach, and Raspberry.
Every single one of them was delicious!
From their website:
"…we make homemade ice cream from all natural ingredients. Yes, no preservatives, only things you can pronounce such as milk, sugar and cream."

http://beekmanshomemadeicecream.com/
Beekmans usually set up out in the Iowa countryside. The lines were always long.
Fortunately, they were fast. Even though the line looked long, the wait was never more than 30 minutes, and usually 10-15 minutes!
More pics of those engines…
And, one more short video of one ice cream maker churning and churning….
And, my honey who thoroughly enjoyed his daily stop at Beekmans, got his souvenir!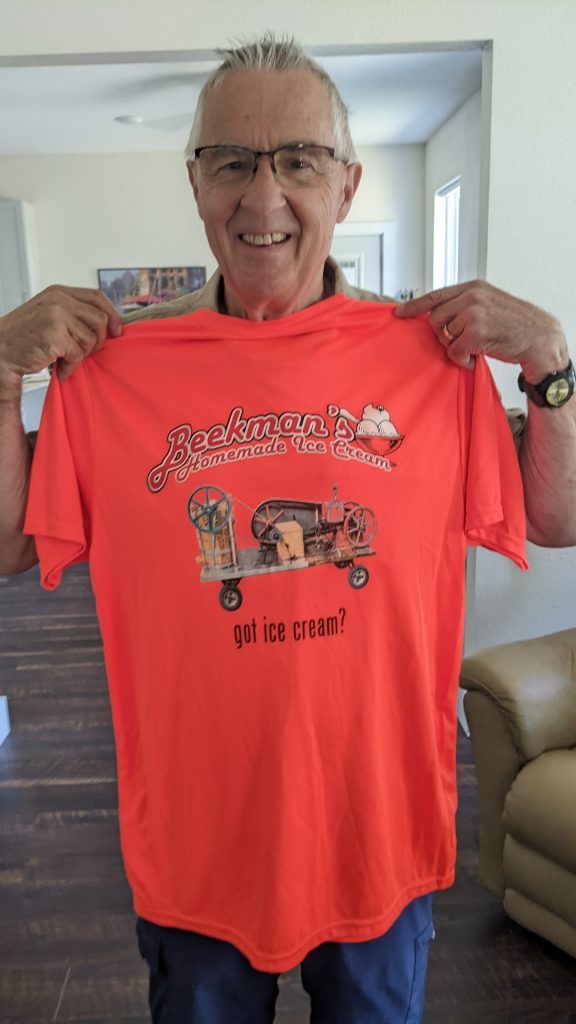 These t-shirts were not available at most of their stops. However, Beekmans is based in Pocahontas, Iowa – which was one of the overnight towns this year on RAGBRAI. That day Beekmans set up in Pocahontas and had these t-shirts available. They told Ben they do not offer t-shirts normally because they do not have room for them!