After a year and a half of silence(!), we are back to share our next adventure with you!
This past February we signed up to do RAGBRAI!
For those that don't know, RAGBRAI is the granddaddy of all bike rides!
It is the oldest, largest, and longest multi-day bicycle touring event in the world! (according to their website)
It is a bike ride across Iowa! For 7 days. For 454 miles.
RAGBRAI officially stands for Register's Annual Great Bicycle Ride Across Iowa. It is sponsored by The Des Moines Register.
This is the 49th year and it crosses northern Iowa this year – where there will be hills at the beginning and at the end of the ride.
We start with the back tire of our bicycle in the Missouri River and end with our front tire in the Mississippi.
On July 23rd, we are joining a group of 22 people from our "hometown" to travel to northwest Iowa. The bus will take us to the starting point where we will gather with 10,000+ friends. People from every state and even from other countries come to do this bike ride.
We start riding on Sunday, July 24th, from Sergeant Bluff, Iowa.
The route is already mapped out, with designated overnight towns.
The bus will go to the designated overnight town each day carrying our tent and gear.
The miles we cover each day vary from 47.9 to 105!
Here's the breakdown:
Start: #1 – Sergeant Bluff, Iowa
Day 1: 53.2 miles to Ida Grove
Day 2: 71.2 miles to Pocahontas
Day 3: 56.4 miles to Emmetsburg
Day 4: 105 miles to Mason City
Day 5: 47.9 miles to Charles City
Day 6: 63 miles to West Union
Day 7: 65.4 miles to Lansing
The last day of riding is Saturday, July 30th.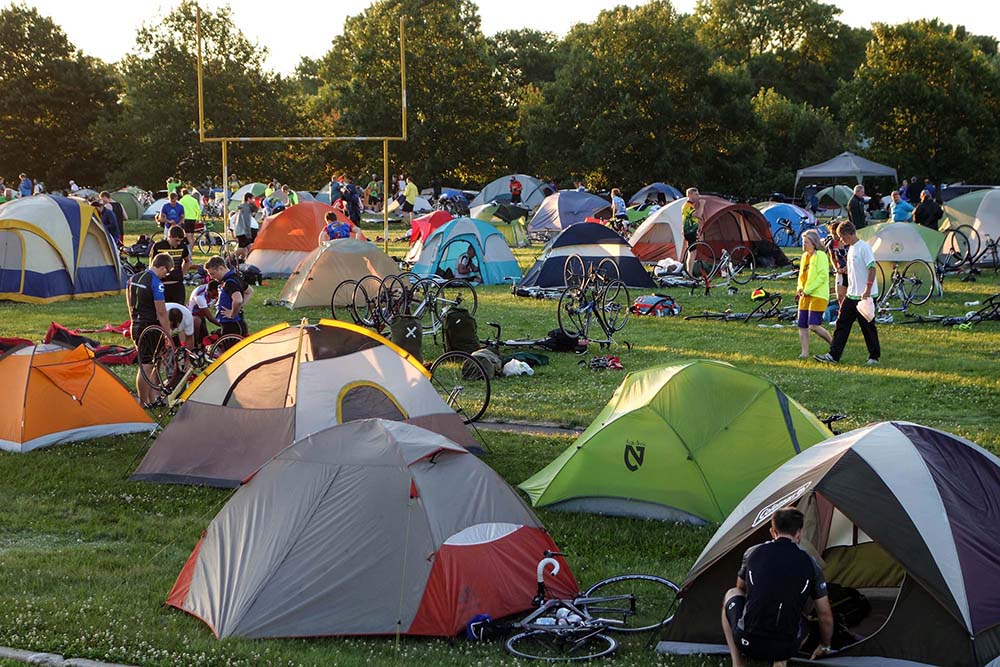 Since we are going with a local group. they have already arranged for us to camp out in front yards in each of the overnight towns – with access to our hosts' bathroom and shower. Yay!
SAG support is provided along the route – for any breakdowns (physical or mental!).
Towns along the route prepare for this major influx of people. Local groups set up booths for fundraisers.
We've heard many good stories about homemade pies, homemade ice cream, infamous Iowa pork chops, and all-too-popular tenderloin sandwiches! We don't anticipate going hungry!
Plus, there is entertainment provided at the overnight towns. We do anticipate short nights!
And heat. And humidity. And early morning starts!
On top of a lot of fun!
For those interested in knowing more about RAGBRAI: https://ragbrai.com/
For those wanting to know more about the route: https://ragbrai.com/2022-host-towns/