We returned to Sisal, Mexico in early January – the same place we stayed thru April of last year. We will be here for two months.
And this time we drove from Iowa!
Some thought us crazy. Some cheered us on.
We thoroughly enjoyed the adventure! And, got to see a lot of Mexico along the way!
We followed the two recommendations we heard over and over – take the toll roads and do not drive at night.
We did not make any reservations prior to leaving except for our stays in San Cristobal de las Casas and Campeche (last two stops prior to arriving in Sisal, labeled F and G in map below).
We had already been to Campeche last year and were familiar with the city. And, we were going to be in San Cristobal de las Casas on New Years Eve, so we thought it best to make reservations. We used AirBnB.
Here is our route from San Antonio.
This route included a number of areas we were interested in seeing.
Dec 27-28
We left San Antonio early on the 27th and crossed the border around 8:30am.
The border crossing went fairrly smooth – except that we had an old car registration! We realized we didn't have the most current copy. We showed them the current tags on our license plates and that seemed to satisfy the officials – and we were on our way!
We drove to Saltillo the first night, approximately 4 hours from the border. This took us around Monterrey.
Dec 28
Our goal was to see Guanajuato and check out the city of Leon. And, if we had enough time, to visit San Miguel de Allende. There is a significant expat community in San Miguel de Allende.
As Ben and I sat at a Starbucks(!) in Leon, pondering where we were going to stay that night, it occurred to use that Ben knew someone from Fort Morgan(!) who possibly still lived in San Miguel de Allende.
We called her and to our surprise, we got to stay with them overnight! Bazi Kanani was a great hostess and we got to meet her husband and two kids.
Dec 29th
Our goal, after having breakfast with Bazi and kids, was to make it to Puebla, Mexico – just southeast of Mexico City. If we went beyond Puebla, we wanted to make sure we had enough daylight to get through some very mountainous driving. Cordoba would be the next city beyond Puebla.
We made it to Puebla in good time and decided to go to Cordoba for the night. We drove through tunnels and some very green and beautiful mountains before descending in to Cordoba.
Dec 30th-31st
We couldn't wait to get on the road! We were going to go to one of the cities that had intrigued us for some time – San Cristobal de las Casas.
San Cristobal de las Casas is in the Chiapas – a very mountainous region in the very southern part of Mexico. It is a beautiful colonial town, situated at nearly 7200 feet.
We were not disappointed. We enjoyed the cobblestone streets, the relaxed atmosphere of wondering around the Centro area, the picturesque pastel-colored buildings, and the magnificent cathedrals.
We stayed in SanCris for two nights – the last night being New Years Eve.
Jan 1st
We were now on our last stretch. Sisal was still 13 hours away. We would drive 10 hours to Campeche, then enjoy a leisurely drive to Sisal the following day.
The first 5 hours of our drive on New Years Day turned out to be the most intriguing part of our journey.
Many indigenous people live in the mountains outside of San Cristobal de las Casas. The area is known for its numerous villages, each with its own identity. We drove through these communities – more than we were anticipating, built high up in the mountains. (This also means many topes – 'speed bumps' at varying heights and severity, and often unannounced!)
We observed a lot of agriculture, mainly hand-planted cornfields and seemingly, also harvested by hand – as most of the fields were on very steep mountainsides.
Numerous times we would see people sweeping up the ashes and debris left from fireworks the night before – reminding us how much Mexicans love their fireworks.
We arrived in Campeche by late afternoon. In our visit to Campeche last year, we enjoyed the 'fortified' city and looked forward to returning. This time, we discovered our favorite AirBnB of all time – a very old colonial home.
Jan 2nd: Home!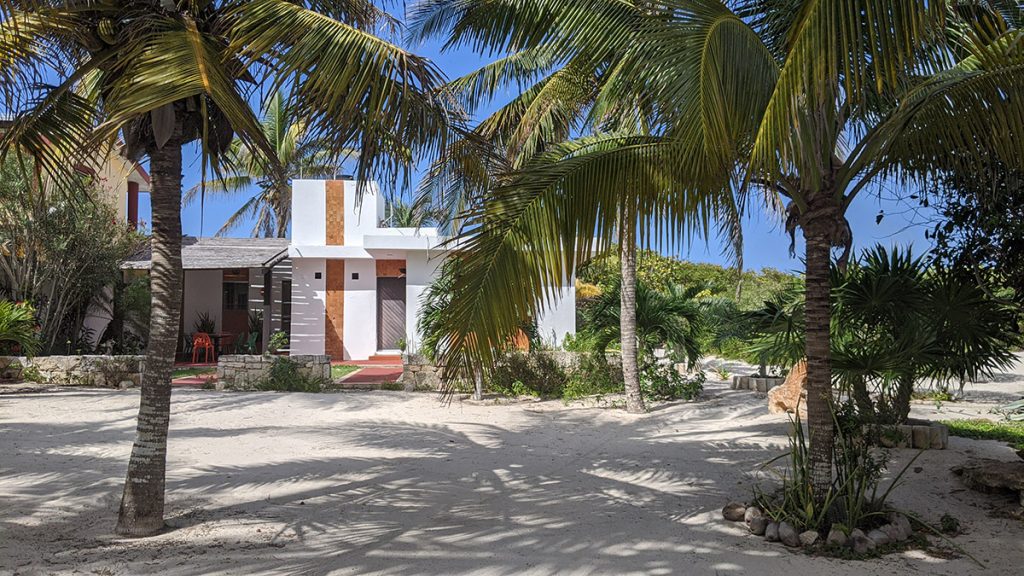 We arrived at our Sisal home on the 2nd, exactly a week after leaving the States.
It was wonderful to be back!
View more pics and videos of our home in Sisal.