In late February, we left our home in Sisal with mixed feelings.
Our friendships with other expats in Sisal had deepened over the last 2 months. Plus, we knew we would not be returning to this home again. We had friends who were renting it for 6 months next year.
As we left, we looked forward to seeing family in the States, but also knew we would miss our friends and our wonderful Mexico beach retreat.
On Feb 28th, we began our 3000 mile journey(!) back to Washington, Iowa.
Friday, Feb 28th
Our start was a little bumpy as we experienced a flat tire just a few hours into the drive. After leaving around 7:30am, we drove a few hours to Campeche (between A an B on the map) . This is one of our favorite cities. See our previous posts: Where Did You Go For Valentine's Day?, The Stuff Movies are Made Of, Drive Thru Mexico.
In Campeche, we picked up a coffee for Ben and a chai for Carma. Imagine that!
Right after we got on the toll road, we noticed the low-tire light on our dashboard. We pulled over and sure enough, we were going to get to experience our first flat tire in Mexico!
It turned out well. Ben changed the tire, we drove to the next town and found a friendly llantero (place that fixes tires). Notice what caused the low tire in the pics below.
We were soon on our way and made it to Palenque by late afternoon. (B on map)
Sat, Feb 29th
Our neighbors recommended we see the Palenque Mayan ruins, so we took the time to visit the ruins in the morning. We are so glad we did! You can see more about that adventure in this post.
Palenque sits in the jungle of the Chiapas Mountains in southern Mexico. The video below shows a huge bamboo tree near where we were staying.
We left Palenque by mid-morning. We were able to drive nearly all the way thru the state of Veracruz. We saw mostly farmland the rest of the day.
We spent the night in a town called Orizaba. (midway between C and D on the map)
Sun, March 1st
We loved Orizaba! It has an elevation around 4000 feet and reminded us a lot of living in Colorado!
The tallest mountain in Mexico and the 3rd tallest in North America is near Orizaba, at 18,000+ feet!
All the pics below were taken from the rooftop of the hotel we stayed at in downtown Orizaba.
We left Orizaba by 9am. This was our favorite day of driving! (even though it included a 2 hour traffic delay due to an accident!) We climbed the mountains outside of Orizaba, only to descend into the farming community on the other side. We 'enjoyed' the views even more since we spent a couple of extra hours in a traffic jam!
As we came into the valley, traffic was still moving slow at times. We watched this farmer plant this field with his horses. It took us back in time !
We spent that night in San Luis Potosi, Mexico.
Mon, March 2nd
We got an early start, hoping to make it to the border by mid-afternoon.
We weren't sure how long it would take at the border, and wanted to get close to Corpus Christi, Texas to visit friends the following morning.
We drove around Monterrey, Mexico (E on map) by late morning, just three hours from the border.
We made it to the border by 3pm. Fortunately, there were not any lines.
On the Mexican side, we stopped at their building and turned in our TIP (Temporary Import Permit for the car), got our $400 deposit back, and turned in our immigration cards.
Back in the car, we crossed the 'bridge' and entered the States. They only needed to see our passports.
We were able to make it to Corpus Christi that evening.
Tuesday, March 3rd
We enjoyed a wonderful visit with friends in Corpus Christi (Thank you, James & Letty, Jacob and Rachel!) and drove to just beyond Austin that afternoon. Our goal was to make it to Tulsa and spend Carma's birthday, March 5th, in Tulsa with Brenda's parents.
Wednesday, March 4th
We drove to Tulsa! (not much else to say!, besides getting acclimated to being back in the States)
We were getting used to hearing English all the time, pumping our own gas, adjusting to the American food flavors, and not saying 'Gracias' or 'Buen Dia' or 'Buena Tardes'!
Thursday, March 5th
Carma's bday! We celebrated being with our parents in Tulsa. It was wonderful to see them and to celebrate with them!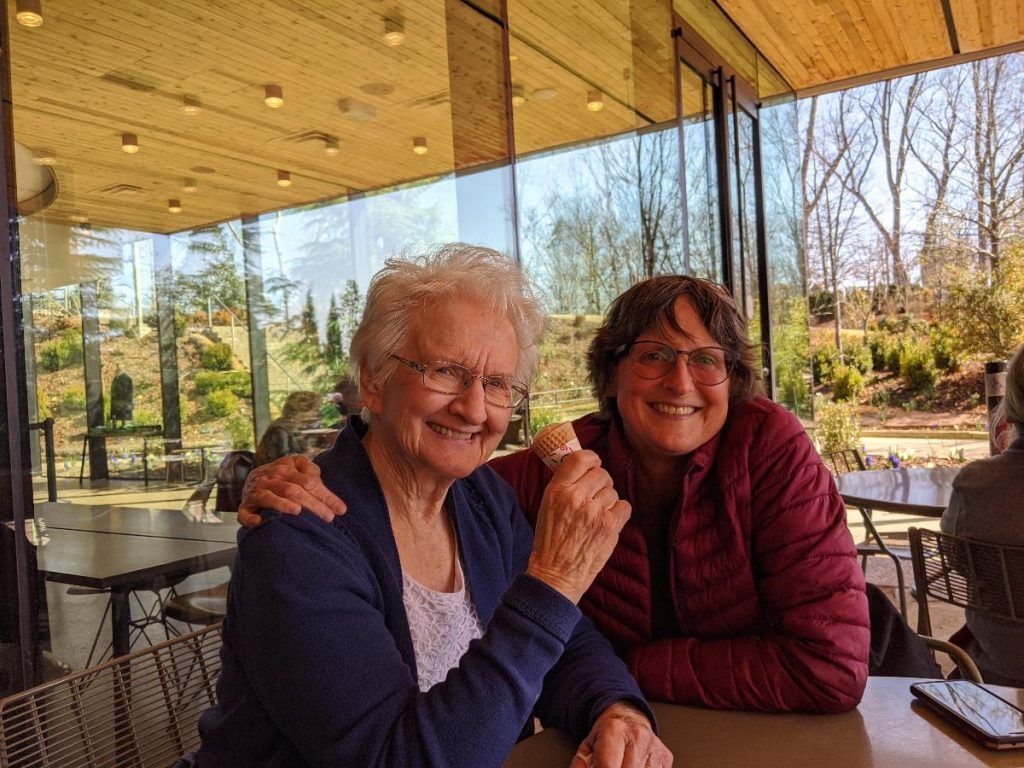 Friday, March 6th
We got a very early start! Ben is known for that!
We arrived in Wayland, by 12:15pm! We visited with our parents in Wayland, picked up our mail (Thanks, Mom and Dad, for taking care of it!) and arrived home by 3pm.
After a week of driving, it was good to be home!
What's Next?
Stay tuned!
If you'd like to read (and see!) about our drive to Sisal, Mexico in late December and early January, see Our Drive thru Mexico.